Rock Drilling Equipment
We offer a wide range of rock drilling equipment which is named for its performance, reliability, and availability. This effectively results in a lower drilling cost. Our KGR premium bits are designed with streamlined lug allowing the ejection of larger pieces or rock. Ultimately, it increases faster penetration rates, longer bit life, and significantly lower total drilling cost. It takes less time to complete the job.
The selection of KGR drill bits covers both blasthole bits for mining applications and bits suitable for construction and civil engineering applications. The product covers hole diameters from 3 to 24 inches. Both air-cooled and sealed bearings are available, as well as various carbide grades and insert geometries with cutting structures optimized for all conditions.
Advantages - Rock Drilling Equipment
Insert shapes and grades designed to provide long life and high productivity
Longer service life for decreased machine downtime
Air-cooled bearing performance optimized for top hours by advanced metallurgy, proportioning of components, and optimized geometries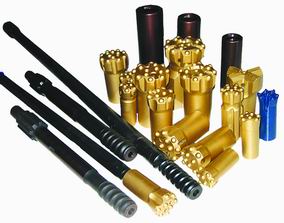 Our Next Post Rock Drill Bits