Our Presence
We have satisfactorily served numerous national and global clients. Our uncompromising attitude towards quality has enabled us to serve our clients in the best possible manner. Owing to premium services we have been able to garner the trust and goodwill of our esteemed clients.
Our range of DTH Hammers and Button bits has been utilized satisfactorily.
KGR Domestic Market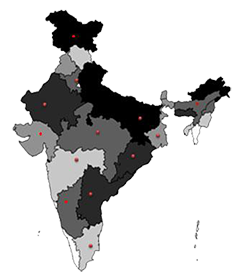 Domestic Presence
Faridabad , Rajasthan, Bihar, Madhya Pradesh, West Bengal,Orissa,Maharastra,Andhra Pradesh,Tamilnadu etc.
Global Presence
Turkey, Zambia, South Africa, Namibia, Botswana, Zimbabwe, Mozambique, Congo, Ghana, Tanzania, Angola, Malawi, New Zealand, Panama, Chile, Kenya, Sudan, Korea, Uganda, Ethiopia, Nigeria, Senegal, Malaysia, Afghanistan, Dubai, Iran, and other parts of world.
STRENGTHS
Powerful Global network.
Competitive Price, Prompt Delivery and well accepted after sales support.